In March 2018, an international panel of reviewers evaluated the KIT Research Unit "Energy" on behalf of the Helmholtz Association of German Research Centers. The topic of geothermal energy systems was rated with top grade. 
Geothermal research in Karlsruhe honored with top mark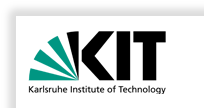 In March 2018, the evaluation of the research area "Energy" of the Helmholtz Association of German Research Centers took place at the Karlsruhe Institute of Technology. Within a week, the international panel of experts evaluated in detail the scientific activities of KIT's energy research in the period 2013-2017. Very gratifying for the scientists around Professor Thomas Kohl, spokesman for the topic "Geothermal Energy Systems", was the rating with the highest grade "outstanding".
The reviewers praised the high-quality research topics of the dynamic team, which combines basic and applied research in a multi-disciplinary approach from reservoir engineering, nanotechnology in reservoir characterization to corrosion and materials. Close collaboration with industry makes it possible to address current problems and provide problem-oriented solutions.
The diverse expertise of geothermal research at KIT ranges from applied geoscience to power plant technology and investigates phenomena from the micro scale to the reservoir scale. A holistic approach is always followed in order to conduct the dialogue with the population in a trusting manner and to inform about general conditions and opportunities. KIT's scientists are involved in two European Horizon 2020 projects in Iceland (DEEPEGS) and Mexico (GEMex) and are also cooperating within the main scientific geothermal project in Chile.
Geothermal research at KIT occupies a leading position together with other (inter)national research institutes and works together with these scientists on solutions for the application of geothermal energy as a base-loadable, CO2-free technology for the generation of heat and electricity. These topics are of particular interest with regard to the climate protection goals of the German Federal Government. CO2 emissions in Germany are to be reduced by at least 80 % in 2050.
In this context, future model projects at KIT dealing with geothermal high-temperature storage systems and heat generation are also planned, in order to avoid CO2 emissions in the medium term and to contribute to decarbonisation of the German and the European energy system.
For more information: http://www.agw.kit.edu/english/251.php